We have developed this SA15 9mm pistol utilizing a standard SAA lower , a 9mm Glock upper and a Torkmag adapter 9mm.
The Torkmag adapter can use Torkmag original magazines or Aftermarket Glock magazines of any kind with a slot added using the supplied cutting jig. You can convert any Glock magazine, even the cheapiest, to Torkmag adapater standard and use them in SA15 pistol and your gun as they remain restro compatible to Glock style handguns (the jig simply makes a cut a different area).
The Torkmag is of wonderful craftmanship aand once porperly set makes a rock solid 9mm gun.
Price is $950 including shipping to your FFL.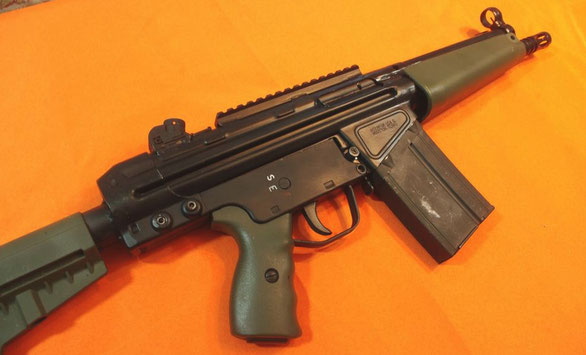 On this page you can find our firearms.
We build these firearms starting from original parts kits and manufacturing the receiver and installing a new US barrel (parts which cannot be imported).
If you cannot find your favourite firearm or it is not available, you can ask to build it for you. 
You pay nothing at the order, simply contact us and ask us for your build, as soon as your turn comes up we will contact you and give you a precise time estimate; you will also pay 50% advance and pay the rest at consignment.
Our latest idea is a MP5k clone made of new and used parts to get a price as low as possibile. 
This gun has a new RCM barrel, a new Hk bolt, a new recoil tube, a new LSC receiver (bent and welded by us) and a Shockwave folding brace with folding attachment. 
We are not sure that we will be bale to keep these price in the future, considering that just a Mp5K parts it costa more than $1400 today, but this one we are selling at this price in consideration of the bad times running around.
This is not a gun for the HK collector but if you are range shooter who need an ammo eater this is the gun for you, especially at this price.  
We are preapring a new batch of 5 guns, ,will have a telescopic brace of our design (basic model) or a telescopic brace and a lighted handguard (Surefire style) for the SWAT model. See the ooutline in the attached images.
Basic $1500
SWAT $1600
This is the clone of the HK53 SMG built by HK in the 80's during the Cold War. 
It is no more produced today. We build it using an original HK military bolt (never issued till they last) and a new US made barrel.
The best configuration for this gun is probably the pistol (8,5" barrel, MP5 length) and the 12" barrel  (possibily with 28" overall length in "firearm" length not including brace, which can mount a forward vertical grip).
Price is $2150 including shipping for the 8.5" pistol  or the 12.5" gun/firearm with brace (not pictured, will be pictured pretty soon).
 These guns are ready to build on order (about 2/3 weeks wait).
NOTE: we had to raise the price because HK33 are not made anymore and HK is not servicing these guns anymore because thy don't have parts. The only 5,56 bolt available right now is from HK Parts and costs $650 so we have to adjust as we use those bolts.
Contact us via email or call to examine all possible options for the build of the gun of your dreams.
The task was not easy. The customer wanted a Sten Mk3 which could be disassembled like an MK2. 
As you probably know the MK3 was the cheap version of the Sten family and was completely pinned to save costs; this meant that the tropps could not maintain and was designed to be left back and taken to maintenance facilities which could remove the pin and repair it.
The troops hated it and the customer did not like a gun which could not be serviced in house so he asked us to male a MK2 and make it look like an MK3.
So we decided to make a 2 piece rib which would end in line once you screwed in the front barrel nut (or sleeve).
If you look attentively you can see a very small cut in the front rib. The threads on the front barrel nut (sleeve) had to be treated with anti seize paste because the rib is straight when the front sleeve is fully torqued into the receiver. 
Making the sleeve perfectly straight was a pain (the sleeve could fully torque left or right every time it was reassembled) but I think we did a good job. If you look attentively you can see a small cut in the front rib where the front rib aligns with the rear receiver rib.
This gun can be build in less than 2 months and is based on an Indianapolis Ordnance system.
The finish is KG Kote HK Black, baked hotter on purpose to make it lightly gloss like the original finish (but much better). Price is around $1800/2000 depending on features (the Indy Ordnance system bolt/barrel /receiver costs $500).
This is a gun we are particularly proud of, because it is very hard to build.
In the beginning of the 80's the SAS and SBS wanted a short version of the G3 to be able to hide it in the difficult Northern Ireland area of operations. 
HK never wanted to make it (because the g£ system does not lend itself to short barrels) and FR Ordnance and commissioned 20 guns to American armorer Bill Fleming (that was building these already for the US market, mainly belt fed).
This gun has an impressive blast and provided a powerful weapon which could be easily hidden under a coat.
It was substituted by the G3K and the HK53/53K, which we also build in clone form.
This gun is build starting from a Cetme parts kit but can be built from original HK parts on order (at higher price).
Price is $1270 + $30 shipping = $1300.
Ships to FFL only.
This is not the "standard" build of a CETME clone from a Cetme Parts kit.
We start from a  Cetme original parts kit, we add a full length 18" barrel but we shorten the loading tibe to Cetme K length.
The gun will shoot and performs like a full size CETME/G3 (having a full length barrel) but will be much lighter for traverse shooting giving you a marked advantage on moving targets. 
As for all of our builds, the hard parts is not to manufacture the gun but make it reliable. Especially with parts kits builds, usually only 50% of time is taken to build the gun and the other 50% is spent to fine tune the gun to make it reliable. And these guns are reliable like the original, sporting a US made new barrel , a new receiver (manufactured by us) and all like new original CETME parts.
Price $1270 + $30 shipping = $1300 all included.
Note: this gun is currently not available but can be built on order. Contact us to have a time frame and reserve your spot in line (usual waiting list about 1 month).
This is probably our ost famouse build. We start from a Cetme Parts kit, add a 14" barrel (same length of G3K) and a 2" modern compensator.
The result is super handy gun, very nimble but with all the power of the famed 7,62 Nato.
A former SAS oerator told us they used these gun to keep the terrorist at bay in Northern Ireland in the eighties. You can use it for hogs or target shooting, surely a great "conversation piece" at the range.
This model has been test fired by Ken Eaton of Eaton Defense. See a video of his test at our front page.
Price $1270 + $30 shipping = $1300
This is our 16" carbine with original HK retractable stock stock.
We build a normal clone of the famed MP5 with a new US Made 8.5" barrel and all original HK licensed parts (lower, bolt, bolt head etc.)
The we added a barrl extender (read fake suppressor) to a have a legal rifle with an original HK stock,
This gun is perfectly compatible with all HK accessories and can be easily converted to an MP5 SD style gun (fake suppressor) adding $150 more.
Price on request
We tested yesterday our latest build, the Sten MK5 Commando pistol.
A gun exactly like this was issued to French Foreign Legion and other French Commando units at the end of the WW2 and following wars. The rear grip was called "poignee de commando" (guess it is something like "Commando Grip"). It was a MK2 grip installed on a MK5 to have a short SMG for close assault duty.
This gun can be ordered in pistol or rifle version (16" barrel). 
We strongly advice to order the 16" SOE version with fake silencer tube (coming soon) which is very similar to the Sten MK6 issued to SAS (Australian) units in the Vietnam War.  The long barrel "ant eater" version does not look good on this gun, at least in our opinion.
This is the test fire of the MC51 Best in 7,62 Nato. 8.5" barrel, (MP5 length), 20 rd in 7,62 Nato sheer power. This can be build on order right now. Reserve a spot in the build line with $150 advance payment. We are also working on a 4.5" version, named the MC51K, it will need a lot of fine tuning to work with such a short barrel but we are getting to it.
This is our Swedish K / M45 semiauto build from an original Vietnam War parts kit (very rare nowadays).
The gun is 99% ready, final retouches and then goes to customer. 
Pretty soon we will publish a guide on how to build this gun from an original parts kit.
Test fire of our Mini Uzi clone in 9mm. This was made using original Mini Uzi parts and lengthening the Mini UZI receiver repair channel one inch in the rear part, to accommodate a full length UZI trigger bar and spring. We had no choice as the original Mini UZI parts areno more available and the various homemade solutions were not reliable. The outlook and the balance of the original gun are preserved and the gun is reliable.