Manufacturing facility : 12515 Maxim Drive, Houston , Texas, 77065
Sales office and public relations: 11600 Jones Road - Suite 108 - Houston Texas 77070
Interfor Usa Group is a small FFL07 company specialized in the small batch manufacturing of tactical firearms and equipment.
Founded by long time firearms enthusiasts, the aim of Interfor is to re build legal military weapons for collectors, target shooters and weapons enthusiasts, so they can possess civilian-legal versions of their favorite military and historical firearms.
Due the high tolerance of the original military firearms and the scarce availability of spare parts and blueprints, each one of these guns must be rebuilt by hand and fine tuned and test fired before being shipped.
For this reason our production rate may seem low but we strive to fulfill orders from our customers in reasonable amount of time. Right now the backlog is about 60 days and we are working weekends to keep the production rate high. Pur best customers have ordered about 10-12 different models/version of firearms, so this must mean something.
On the other hand we can offer great flexibility to the customers, as our guns can be built exactly as the customer requests, making possible to have clones of very rare historical guns, often based on museum pictures or other scanty material.
We test fire each firearm before shipping to make sure that everything works and the customer gets a functional gun right out of the box.
Can see some of our builds in action on our Youtube video channel, Interfor USA Group or at the OUR FIREARMS page on this site.
We are also fully licensed importers (FFL 08) and registered State Department exporters of firearms and ammunition.
Feel free to contact us at the CONTACTS page or via email at :
---
I just made a payment for the additional magazines and the stock.
I am so happy with the result! 
I will send you back pictures of it being enjoyed!
The initial test fire of the our G3 sniper clone.
IFrst employed by the Italian Army in the ITALCON mission in Lebanon (1982), the G3 sniper was a byproducts of the lessons learned after the massacre of Munich in 1972, where it was learned that in urban environment and anti terrorism operations a fast second shot typical of the semiauto rifle is often a good tradeoff for the absolute precision typical of the bolt action rifle. 
THe is the presentation of our clone of that rifle, made available to the common shooter for a very reasonable price (much lower than the $14k of the original).
We test fire another PPSH41 in 7,62 Tokarev original caliber. This caliber is little hotter and more historically accurate. The good news is that you can change caliber simply swapping the barrel. Removal is easy just open the gun and remove a pin and slide the barrel out.
We have had some requests for PPSH41 rifles and we decided to make a video on how to load the drum magazine. It is not difficult but it is important that you always use your fingertips and never insert fingers in the spring mechanism as it can release and bite them. Use a tool to adjust the bullets position in the magazine.
We test fired our Yugo M47 9mm rifle at the lab bullet trap and at the range. Seems a PPSH but the system is more similar to the Beretta 34 SMG. Love it.
We test fired our RPD semiauto build with hammer system and binary system. All OK. Ready for cleanup and finish.
We have test fired the FMK3 semiauto build before heading to the range for more tests. We loved this gun and we are building more of these as we found the design way superior to the UZI and way more reliable. Thanks for watching
Test fire of our Mini Uzi clone in 9mm. This was made using original Mini Uzi parts and lengthening the MIni UZI receiver repair channel of one inch in the back part, to accomodate a full length UZI trigger bar and spring. We had no choice as the original Mini UZI parts areno more available and the various homemade solutions were not reliable. The outlook and the balance of the original gun are preserved and the gun is reliable.
This is the test fire of our prototype MC51K Dragon based on a 4.5" barrel. The locking piece is modified to make the gun open on a short 4.5" barrel and the gun is powerful but very pleasant to shoot. 
Expected price is $1500-13000 due to increasted cost of parts. The gun is still in development as the end cap for the special extensible brace we have developed canmot hold the energy of the 7,62 Nato cartridge for long before cracking. Will probably have to revert to a traditional steel end cap with folding brace. On a 9mm would not be a problem but this gun is a juggernaut so we will have to use strong materials.
This is our clone of the PPSh41 SMG, made in rifle version in 9mm. cal. 
We were surprised by the smoothe shooting of this build and the fidelity to the original , as the 16" barrrel is just barely longer than the original barrel and consents the use of the original stock.
There is a story behind this movie. Mr. Matt Mink runs "Naples Gun and Ammo" a shop specialized in military firearms and clones and suppressors. He wanted to test one of our guns so he bought one from a customer (so it was not a special gun made for him), installed a full auto DLO registered sear and a OSS Helix 7.62QD Ti  suppressor and tested it. Only after his tests he contacted us and we are collaborating to a new series of roller lock gun made on his specifications. Mr. Mink was so kind to send us a movie of one of his test and was very impressed by the gun smooth workings.
found this gem on Youtube . A vintage German movie on how the g3 is made with 1000s of operations. This will help to understand how difficult is to rebuild one of these guns. 
Final test fire of our M/45 Swedish K built on order for a customer. This is the 3rd gun of this kind we have built this month, we had to stop due to scarcity of parts kit. They are practically unavailable anywhere by now. 
Pretty soo we will publish a complete build guide from a parts kit on this site.
This is our Swedish K / M45 semiauto build from an original Vietnam War parts kit (very rare nowadays).
The gun is 99% ready, final retouches and then goes to customer. 
Pretty soon we will publish a guide on how to build this gun from an original parts kit.
This time we test fire a MK5 Sten SOE clone. This gun was built on order for a customer who wanted a MK5 rifle but did not like the "ant eater " appearance of the mandatory (by law) 16" barrel. For this reason we decided to build a clone of the MK5 SOE silinced version, equipped with a fake silencer. This gun is just half inch longer than the original MK5 SOE and is pretty similar to the original gun.
This time Phil Oxley test fires the M53 (HK53 clone) in 5,56 with a SB Tactical SBT5A brace, built for a customer.
These brace are rated by the manufacturer for the MP5 9mm but with some attentive work can be adapted to the 5,56 HK53 thanks to the aluminum end cap).
The looks are super cool and this probably the best brace you can have on HK53 or MP5. Still have to test the newer SB HK PDW which resembles the original MP5 telescopic stock (and is HK53 rated too).
It is about the same price but seems that every time we ask a customer they go always for SBT5A probably because it is widely tested. 
If you do the conversion at home work cautiously and test fire a lot from low position (away from face) at least for the first 50 rounds, ALWAYS USE EYE PROTECTION as an over filed end cap could fail and let go of the recoil rod to the rear in direction of the shooter's face.
The end cap can possibly fail (it happened on another gun with a RUBBER end cap but never with an ALUMINUM end cap) but if you wear eye protection the recoil rod will come out of the rear and barely will touch the goggles (if you are pointing the gun at eye level).
Forewarned is forearmed.
See the design of the two SB Tactical braces here: 
We tested yesterday our latest build, the Sten MK5 Commando pistol.
A gun exactly like this was issued to French Foreign Legion and other French Commando units at the end of the WW2 and following wars. The rear grip was called "poignee de commando" (guess it is something like "Commando Grip"). It was a MK2 grip installed on a MK5 to have a short SMG for close assault duty.
This gun can be ordered in pistol or rifle version (16" barrel). 
We strongly advice to order the 16" SOE version with fake silencer tube (coming soon) which is very similar to the Sten MK6 issued to SAS (Australian) units in the Vietnam War.  The long barrel "ant eater" version does not look good on this gun, at least in our opinion.
One of our customers ordered one of our HK53 clones (M53) in 5,56 cal. and liked the gun so much that he decided to add a SBT5A brace. 
We guess it required a little file work on the end cap as the SBT5A is designed for the MP5 whose receiver is a tad smaller than the HK53 but we must admit the result is excellent. The gun looks so good that we will offer the SBT5A brace as an optional in the future. We thank our customer Mr. M.J. for sending us the picture and the appreciation, he sure has earned a discount on next order. 
You will also see that the gun is sporting now a Pro Mag 5,56 magazine. Contrary to rumors these magazines are not bad but simply need some file job to be adapted to the gun and are a voable alternative to expensive and often worn out original HK magazines. Compliments to out customer again for a job well done.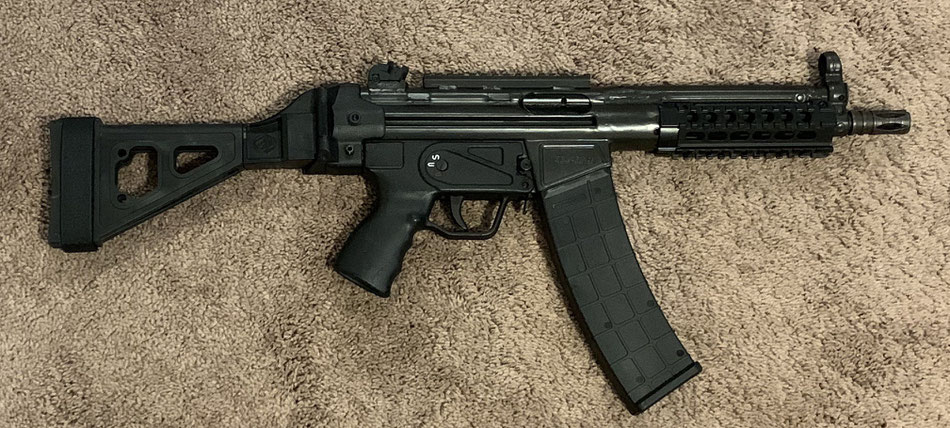 This is the test fire of the MC51 Best in 7,62 Nato. 8.5" barrel, (MP5 length), 20 rd in 7,62 Nato sheer power. This can be build on order right now. Reserve a spot in the build line with $150 advance payment. We are also working on a 4.5" version, named the MC51K, it will need a lot of fine tuning to work with such a short barrel but we are getting to it.
The task was not easy. The customer wanted a Sten Mk3 which could be disassembled like an MK2. 
As you probably know the MK3 was the cheap version of the Sten family and was completely pinned to save costs; this meant that the troops could not maintain and was designed to be left back and taken to maintenance facilities which could remove the pin and repair it.
The troops hated it and the customer did not like a gun which could not be serviced in house so he asked us to male a MK2 and make it look like an MK3.
So we decided to make a 2 piece rib which would end in line once you screwed in the front barrel nut (or sleeve).
If you look attentively you can see a very small cut in the front rib. The threads on the front barrel nut (sleeve) had to be treated with anti seize paste because the rib is straight when the front sleeve is fully torqued into the receiver. 
Making the sleeve perfectly straight was a pain (the sleeve could fully torque left or right every time it was reassembled) but I think we did a good job. If you look attentively you can see a small cut in the front rib where the front rib aligns with the rear receiver rib.
Phil Oxley testing our latest build: a 9mm AR15 complete gun 4.5" barrel and ENDOMAG system. What is ENDOMAG ?
ENdomag is substantially a PMAG magazine converted to 9mm by MEAN ARMS , with its own ejector (on top of magazine).
With this magazine you can shoot your 9mm upper (or 9mm gun in this case) then unpin the lower and use your 5,56 or .300 (or whatvere caliber) upper without any other modification. 
End of the Stone AGe of dedicated lower. Welcome of the Era of the multicaliber lower. 
After the tests of today the gun will be cleaned and prepared for presentation as a product and sale. The price ? $850 all included for the complete gun. 
Pretty soon available in 5.5" 8.5" 10" 12".